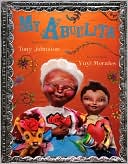 Tony Johnston. My Abuelita. Illustrated by Yuyi Morales. New York, NY:
Harcourt Children's Books, 2009. ISBN: 978-0-15-216330-3.
Morning adventures of a grandmother, abuelita, and grandson preparing for the day's work explode with imagination in this vibrant picture book. A loving abuelita and caregiver involves her grandson in her stretching, humming, yodeling, and breakfast making. When Abuelita is dressed and the car is packed with props, then they are ready to go. Her young grandson looks forward to the day when he can be as his creative grandmother, a storyteller.
The movements of this expressive story demonstrate a strong intergenerational bond between a talented grandmother modeling acceptance and self-confidence to her grandson. Even with hair the 'color of salt' and face 'as crinkled as a dried chile' Abuelita transcends aging stereotypes with vitality.
The vivid colors and textures fill the double-page spreads uniquely illustrated using digital photographs of polymer clay, wire, felting wool, acrylic paints, fabric, wood, metals and Mexican crafts. Spanish words and their meanings are introduced throughout the story.
Ages 4-8.
Reviewed by Charity Leonette, Community Partnerships Coordinator, Allegheny County Library Association. This review was printed in
The Journal of Intergenerational Relationships
, Vo. 8 (4) 2010. Available online at www.taylorandfrancisgroup.com. ISSN: 1535-0770.